Application of Residual Current Monitor in Street Lighting
Residual Current Monitor Application
Leakage detection applied to street light distribution box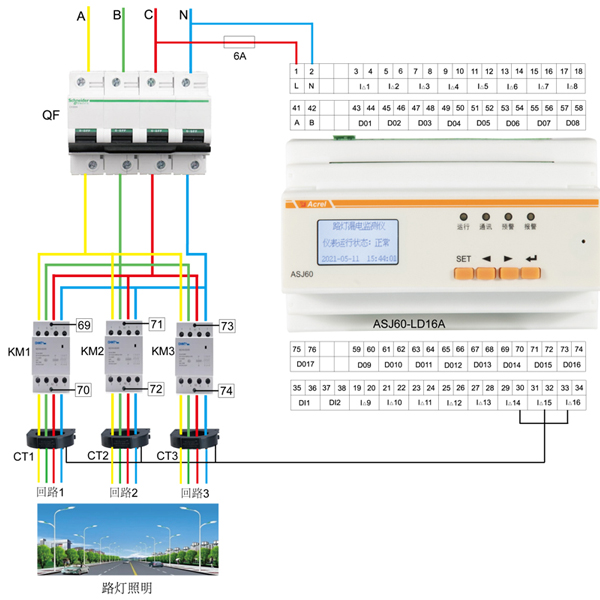 Function
It can monitor and display the residual current of multiple circuits in the street light distribution box in real time;

Each residual current monitor can monitor the residual current of 16 circuits at most, and the residual current monitoring range is 1mA-30A;

The alarm value can be set for each residual current monitoring channel, and the setting range of the alarm value is 5mA-30A. Each channel of residual current monitoring can be set as an over-value alarm, action or close the residual current monitoring function;

With 1 channel of water immersion alarm relay and 16 channels of residual current alarm relay, each channel of residual current alarm relay corresponds to 1 channel of residual current monitoring, when the residual current exceeds the set value, the corresponding relay will act to control the AC contactor of this circuit Disconnect loop power. At the same time, it has an automatic reclosing function, the number of reclosing and the interval time can be set, and the reclosing function can be turned off (the reclosing function is only valid when the circuit leakage monitoring is set to both alarm and open);

2-way DI input function, which can be used for water immersion or other switch status monitoring;

With 1 channel RS485 communication;

30 event record function, able to record the time of alarm occurrence and fault type;

Self-test function, press the self-test button to start to check whether the hardware of the instrument is working normally;

Reset function, the meter detects a fault, and after the fault is eliminated, the reset button can be pressed to reset the meter;

Silence function, press the mute button to eliminate the alarm sound.
Related Articles about Acrel