DIN Rail Energy Meters: A Comprehensive Guide
The disparity between equipment and electricity meters, coupled with the inefficiency in power usage, has been a persistent challenge. However, a solution has emerged in the form of DIN Rail Energy Meters.
What is a DIN Rail Energy Meter?
A DIN Rail Energy Meter is a standardized metal rail primarily used for mounting circuit breakers and industrial control equipment within equipment racks. It also serves as a mechanical support structure for various small electrical components. The term "DIN" originates from "Deutsches Institut für Normung," which translates to the German Institute for Standardization and became the official symbol for technical standardization in Germany during the 1970s.
Performance of DIN Rail Energy Meters
DIN Rail Energy Meters seamlessly blend industrial energy measurement systems with user-friendly installation, compact design, and robust two-way communication protocols. These meters deliver exceptional performance while remaining a cost-effective option, boasting the following features:
•Accurate measurement and recording of total active power;
•RS-485 serial port communication protocols;
•Compact size with a fixed width of 18mm or multiples thereof, making them ideal for pairing with miniature circuit breakers;
•Lead seals that enhance anti-theft measures.
When compared to traditional meters, DIN Rail Energy Meters outperform them in every measurable aspect.
Applications of DIN Rail Energy Meters
The relationship between energy supply and demand has traditionally been challenging to control and comprehend. Effective power measurement hinges on two critical factors: precise energy consumption measurement and user electricity usage. These objectives are difficult to achieve using conventional induction meters, which is where DIN Rail Energy Meters come into play.
Over a set period, the DIN Rail Energy Meter measures electricity consumption to establish baseline values for electricity pricing. By adhering to two simple rules – decreasing prices when power output is sufficient to encourage higher consumption and increasing prices when power output is insufficient – these meters streamline energy consumption efficiency and balance supply and demand.
Prospects of DIN Rail Energy Meters
DIN Rail Energy Meters rely on three fundamental pillars:
Cutting-Edge Performance
Precise electric energy measurement;
Anti-theft features;
Real-time monitoring;
Interactive information capabilities;
Automatic control;
Applicability in diverse environments;
Flexibility in installation conditions;
Cost Efficiency
DIN Rail Energy Meters provide cost-effective and secure energy consumption solutions. They operate within a robust digital information network driven by a smart grid, enabling residential users to monitor and manage their household equipment in real-time, either through the main panel display or via the internet.
Standardization
These meters represent state-of-the-art electric measurement equipment set to reach and operate nationwide. They optimize various aspects such as costs, after-sales support, management, measurement accuracy, and workload efficiency.
ACREL ADL200 DIN Rail Meters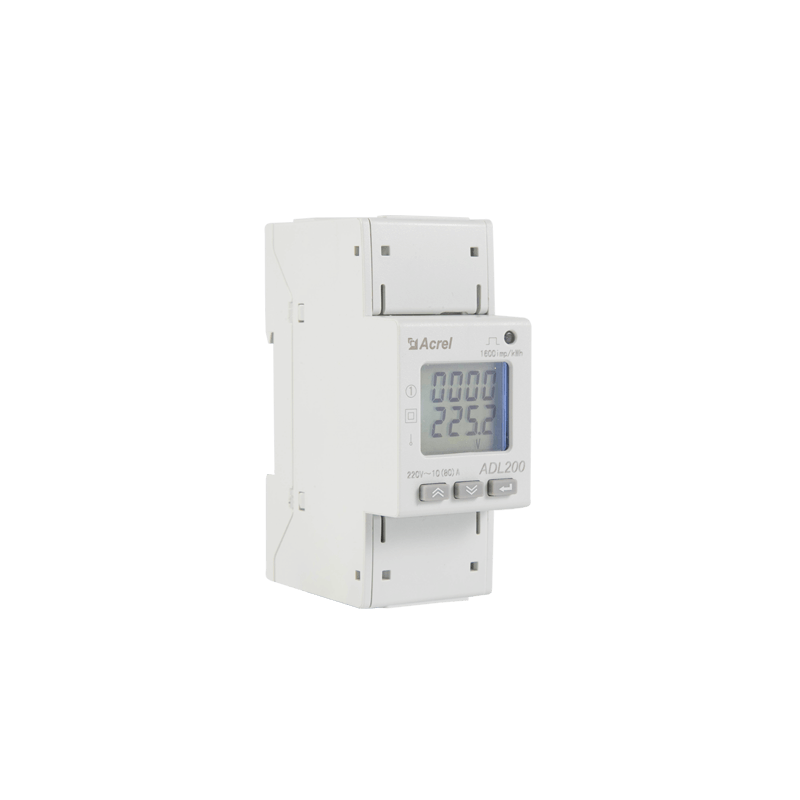 The ADL200 single-phase electric meter is designed for measuring single-phase active energy on low-voltage systems. It also captures electrical parameters like voltage, current, and power. Additionally, it offers RS485 communication. This electricity meter boasts advantages such as a compact form, high precision, excellent electromagnetic compatibility, and easy installation. It complies with the technical requirements of electricity meters in the IEC62053-21, IEC61000, and EN50470 standards.
Conventional grids and their associated devices are gradually becoming outdated. Induction meters are no longer the norm, and electronic meters with one-way communication systems are following suit. The future of energy-efficient grids and conscious consumption relies heavily on DIN Rail Energy Meters with two-way communication protocols. They outperform traditional induction meters in all aspects while being more environmentally friendly, versatile, secure, and cost-efficient in the short and long term.
Related Articles about Acrel