Power Supply Solution for Winter Olympics
The system solution can be divided into three parts: the field device part, the network communication part and the platform management part.
Field device part: including DTSD1352-4S2D-MK, DTSD1352-4S2D, ARTM-24, WHD46-33-C, WHD20R-22-C, ARTU-KJ8 and other signal acquisition equipment, used to collect electrical operation in indoor and outdoor distribution boxes parameters, electrical contact temperature, ambient temperature and humidity in the box, condensation, smoke and other data, and can automatically control heating and dehumidification through the built-in logic of the ANet-2E4SM intelligent gateway to maintain a good operating environment inside the distribution box.
Network communication part energy meter application: including ANet-2E4SM intelligent gateway. The gateway actively collects the data of the field device layer equipment, and can perform protocol conversion, data storage, and upload the data to the local touch screen and the designated server port through the 4G network to dehumidify and other equipment.
Platform management: a platform for energy management in the Winter Olympics.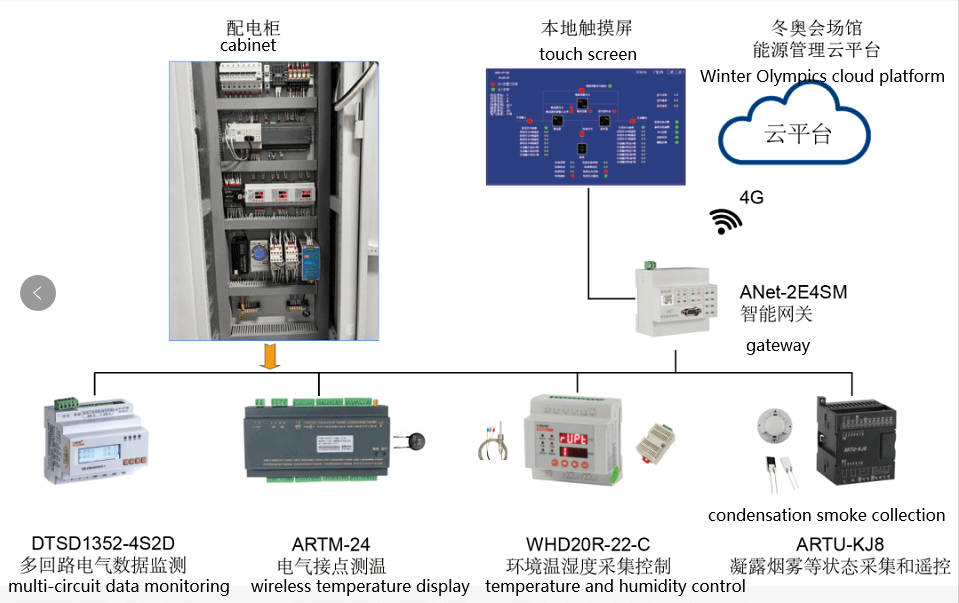 Related Articles about Acrel